Creative Research
Kristina promotes the field of craft-based research as editor of the journal Craft Research, and she uses her silversmithing skills to explore and advance the area of silver design in relation to new technologies and emotion.
Building the Field of Craft Research
Kristina is the founding editor of the journal Craft Research, which was launched in 2010 to help build and advance the field of craft research. Alongside her editorial work and to complement it, she has authored a number of articles together with her co-editor Dr Katherine Townsend. Read more...
The Argentium&reg Project
In her creative research, Kristina has explored the creative potential and applications of Argentium® Sterling Silver for jewellery and silver design. Argentium® is a new silver alloy, which was developed at Middlesex University and which has been recognised as a significant development in the history of silver. Among its main benefits (over Sterling silver) are that it is fire-scale-free, that it is highly tarnish resistant, and that it can be laser welded.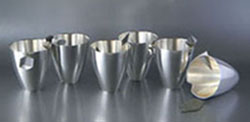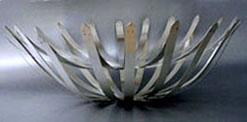 Exploring the Creative Possibilities of Argentium® Sterling Silver (2005)
In 2005, Kristina was a Researcher in Residence in the Department of Applied Arts at Middlesex University where she explored the technical and creative possibilities of the new Argentium® silver alloy. Read more...
Developing New Avenues for Silver Design (2009): Exploring Elasticity as a Medium for Emotional Expression
In 2008 Kristina was awarded an AHRC practice-led grant under the title "Exploring new Avenues for Silver Design using Argentium® Sterling Silver and Laser Welding" to continue the work begun at Middlesex University. Read more...
Experimenting with DMLS (2012-16)
Following her work into Argentium silver and emotions, Kristina collaborated with Dr Lionel Dean on exploring the possibility of creating flexible structures using direct metal laser sintering (DMLS) to express emotions through movement. Read more...